Check out this brochure for the 16 wheel drive Bristol Bush Swamper ATV. According to the brochure, this AATV has the option to add 8 more tires and wheels for a 24 wheel drive machine.
(Click on thumbnails for larger photos)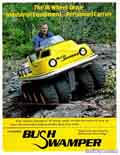 Here are two earlier brochures of this 16x16 ATV when it was originally the Summers Bush Machine, manufactured in North Bay, Ontario Canada by E.H. Summers Manufacturing. This was a 1979 model year. Prior to this, there were 22 "prototypes" built called the "Rollsport"