This first thing you do is disassemble the entire car. That's about a 20 minute job. Right now is the time to sandblast the frame & take care of any other maintenance problems. You will keep the same inner bearings, but the outer bearings will be the 62 mm O.D. (early Max bearings). If you want to do this conversion, you will need 2 drilling fixtures. One to drill the frame & one to drill the body.
With the frame out of the car, you bolt the frame fixture down with the 2 allen head bolts. Those 2 bolts thread into the old Attex bolt circle.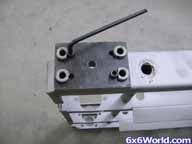 Using a 25/64 drill, drill 4 new holes using the guides in the fixture.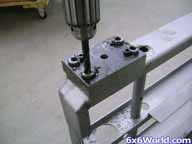 Take off the fixture & repeat 5 more times @ each axle hole.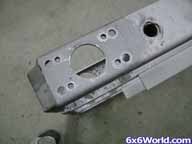 When you're done, you have to knock out the old threaded inserts, they will interfere with the new bolts. To get those out thread a bolt almost all the way in & smoke it with a BFH.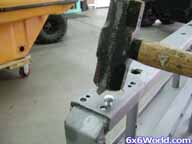 When finished you use the same frame fixture to drill 4 new holes in the bearing flanges. You bolt both flanges back to back to the bottom side of the fixture using the plug in the bore to keep them centered. Tighten the 1/2" bolt & drill 4 new holes.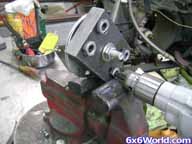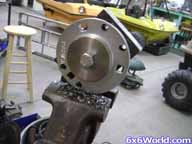 You need to chamfer the drilled holes in the flanges. They'll have some pretty big burrs.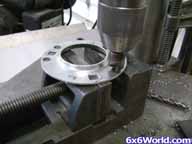 Now with the frame & the flanges done, you use the body fixture to drill 4 new holes in the body. This fixture uses 2 tapered pins catty cornered to locate the fixture on the old holes. With the 2 tapered pins in place, tighten the 1/2" bolt. Use the same 25/64 drill. Use the same outer holes in the fixture to drill the body.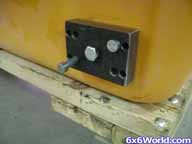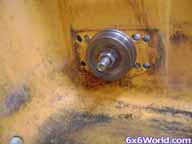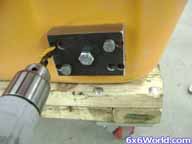 Remove the fixture & all the bolt holes will line up & you're ready for 1 1/4" axles.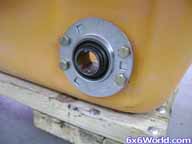 You'll still have to use spacers behind the bearing flanges like the stock ones only they need to be bigger to match the bolt circle. I can make them for anyone that needs them. They would be the same thickness as the stock ones. Unless of course you go springer, then they need to be thicker. Now you have a choice to use either hollow axles, solid axles or splined axles. If I had done this before I did the Yellow spider, I wouldn't have had to change my side plates. I'd be more than happy to loan these 2 fixtures out to anyone that wants to use them. All I ask is that you take care of them & return them so they can be used again by the next person interested in doing this.
Whipper